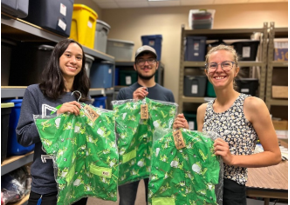 United Way of Marathon County's Community Closet invites you  to reach out to your community through giving your time and energy! Be part of United Way of Marathon County's BOLD GOAL to lift 10,000 families to financial stability by helping us provide free clothing for all ages and all occasions.
WHERE? United Way of Marathon County Community Closet.
WHEN? We have openings every third Thursday of the month. From 2pm-4pm.
WHAT?  Below are examples of what sort of activities you may be invited to participate in.
A tour of the Community Closet at the start of the shift.
Sorting Donations and putting them out on the racks.
Ensuring that there is a variety of all clothing types out.
Seasonal switchover. (Seasonal switchover is taking down clothes that are summer and putting out autumn and winter clothing, and vice versa depending on which season we are in).
A variety of other needed tasks to help the Community Closet best serve their guests.
See the highlighted-blue-link below for more information about the Community Closet: Community Closet | United Way of Marathon County (unitedwaymc.org)
WHY? Volunteering is health-giving to your wellbeing as well as your employee's wellbeing. By volunteering with the Community Closet, you get to make a difference and to be involved and engaged in your community.
Register for your preferred date below! Please note, if you receive a message that tickets are sold out, that particular Third Thursday no longer has space available. Please choose a different date.